An American Cargo ship from Oman navigates through the African belt known for its notorious Somalian pirates. When 4 pirates on a boat are on their way to capture the huge ship, the intelligent moves of the Ship's captain & crew notwithstanding, pirates get hold of the captain and hold him captive. How does America react & how the two captains hold stead in such uncertain times are dealt with in the later part of this enthralling enactment of a true story!
| | |
| --- | --- |
| Language: | |
| Running Time: | |
| Rating: | |
| Release date: | |
| | |
| --- | --- |
| Directed by: | |
| Produced by: | |
| Written by: | |
| Starring: | |
| Music by: | |
| Shot by: | |
| Editing by: | |
| Distributed by: | |
Paul Greengrass, known for his Bourne films & documentaries, tells the turmoil Rich Phillips had to go through over the course of the hijack & also provides the PoV of the Pirates quite convincingly!

Who better than Tom Hanks to first,reason out with the Somalian captain and later,express the jolts of the captured! His final act is only about 3 minutes long but could be good enough to earn him an Oscar nomination! Close on his heels are Barkhad Abdi, who plays the ruthless but wise Somalian pirate, and his 3 comrades!

Paul's idea of filming this on the Ocean instead of using miniatures & VFX in a studio works hugely in favour of the film providing a breathtaking & impactful visual experience; The gargantuan efforts of the Cinematography team is to be thoroughly appreciated!

The editor comes to the party in the scene when the boatmen chase the ship down & board it. If you felt respect for those villains at those moments, it was partly due to the superb cuts!

Henry Jackman's pulsating background score adds value to the visuals.

Paul has smartly scripted this & written dialogues so that the film reaches any cine lover & has also offered reasoning (from the Somalian angle) and questioning of such reasoning (from an American angle!)
The film sags a bit towards the middle of the second half but that is only for a brief period as it picks itself up in time for an exciting climax!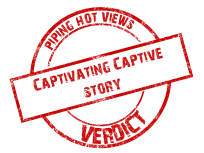 An enthralling ocean ride that pays tribute to two fearless captains!