When Lingesan, a body-builder and a 'Mr.Tamilnadu' winner, hesitantly takes up a modelling assignment, his life takes a turn for the better. The growing fame and celebrity eminence doesn't just give him a new lease of life but also makes him face deadly adversaries who are hell bent to bring him down. What he endures due to that and how he has his revenge is what that makes up the rest of this movie.
| | |
| --- | --- |
| Language: | Tamil |
| Running Time: | 183 min |
| Rating: | U/A |
| Release date: | 14 January 2015 |
Directed by:

Shankar

Produced by:

V. Ravichandran

D. Ramesh Babu

Written by:

Shankar

Subha

AN Balakrishnan

Starring:

Vikram

Amy Jackson

Suresh Gopi

Upen Patel

Santhanam

Syed Siddiq

Satya Krishnan

Music by:

A.R. Rahman

Shot by:

P. C. Sreeram

Editing by:

Anthony

Distributed by:

Aascar Film Pvt. Ltd
Vikram – words fall short when you try to describe the incredibly versatile actor in him! His dedication and hard work show off in every frame and he proves yet again that he isn't just an actor but a genius who even his competitors might look up to! If the first half was all about Lingesan's 'macho'ism and Lee's Metrosexual looks, his different avatar takes the second half by storm. This by all means will go on to become the crown jewel in Vikram's career!

Without any doubt one can claim that Shankar is the only director who could have pulled off such an extravaganza. One can do nothing but marvel at each and every scene and the grandeur that oozes in every other frame. If Shankar's 'Robot' proved to be a landmark for innovation, 'I' takes it several notches higher in terms of Production design & make-up – he has bettered his unrivalled self again!

Amy Jackson as the supermodel sizzles in every scene she appears on screen. Be it the traditional costumes of the second half or the bikinis of the first half – she carries it off with virtual ease and extreme coziness. She has quelled all doubts around her choice as the female lead by leaving us to wonder if any of the contemporary leading ladies could have fit so well into all those attires.

P.C.Sreeram's cinematography and A.R.Rahman's music score are undoubtedly the two other pillars apart from Shankar and Vikram, that propel the movie ahead. Be it the breathtaking visuals of China or the optical treats that have been pictured via the mind bending songs and equally snazzy BGMs – Shankar has indeed brought out the best from these two stalwarts!

Weta Worskhop – New Zealand, needs to be appreciated for the awe-inspiring job that has been done not just on the beastly transformation of Vikram but also on the grisly climax appearances of the antagonists – Suresh Gopi, RamKumar, Upen Patel and Ojas M. Rajani
While we are able to see the effort in every frame from Vikram & the technical crew, the film is devoid of moments that surprise and the overall predictability makes it feel extremely long at 188 minutes. Santhanam's one-liners seldom work and the scenes with 'Powerstar' do make us cringe.

The ghastly images of the antagonists during the payback episodes can end up ruining one's mood and even give the kids watching, a few sleepless nights. We all know its time for revenge and they are the baddies and we expected something more from the movie than such a big cliché! No wonder the censor insisted on U/A certificate.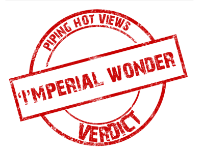 In more than half a decade of Tamil movie industry it has always been observed that the weight of expectations vested on a movie is directly proportional to the disenchantment of the average movie-watching public. But 'I' breaks this trend majestically. 'I' is definitely not the best script among Shankar's films but the average script is lifted by the extraordinary performance of Vikram & impressive technical wizardry.